Hi new to pcars using a g920 wheel is there a way to set my pedals and wheel like I have it on forza6 the main issue is brake and steering rotation I can't seem to get feel on project cars amy help appreciated ty this is how I have it on forza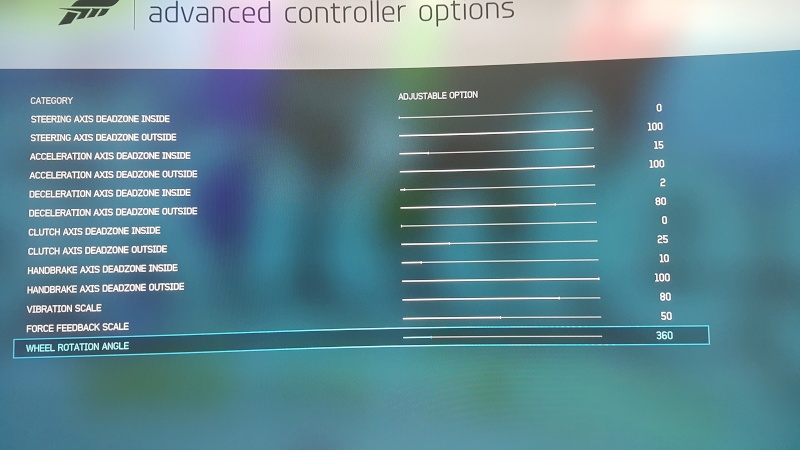 DE5ERT PENGU1N








Number of posts

: 25


Registration date

: 2016-01-24


Reputation

: 0



Can't help much with the wheel rotation since I'm using the standard 540° in Forza and standard wheel settings in PCARS. But the brakes in PCARS can be easily set by running the calibration and simply pushing the pedal just as much down, as I want my max value to be. Then try it out on the track and adjust that setting according to your experience if it isn't perfect, yet.
I'm quite surprised that you are feeling well with such a high outside deceleration value in FM6, actually. My value for that is
22
.

I'll take a look if I can see my current calibration in PCARS without resetting it and will let you know what the value is. Maybe you can use the differences between my FM6 and PCARS settings to find a value where you can start with yours

LMP Class - Toyota TS040 Hybrid - with CRA Morphader, teddygtr and Dragonsyoung
@whoever awards the ribbons: feel free to add the ribbons for "FM6 TCC S12 - Teams Championship - 3rd Place" and "PCARS Spec Cup S3 - Teams Championship - 3rd Place" to me and my team mates' signatures whenever it fits for you   ; )
Here's what I have for the G920.

Shneeb108




TORA Race Number

: 808






Number of posts

: 24


Location

: South Florida


Registration date

: 2016-05-25


Reputation

: 0



---
Permissions in this forum:
You
cannot
reply to topics in this forum